Turbinate Reduction
What causes my runny nose?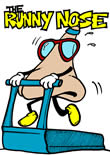 Whether the cause is allergic rhinitis or vasomotor rhinitis, the problem within the nose is the same. Structures in the nose called Turbinates react to the offending odor or airborne particles by swelling and pouring out mucus-as if the body were trying to block and cleanse the breathing passage. While turbinate enlargement can cause a runny nose, it can also cause obstruction to breathing, facial pain and pressure and even sinusitis.
Turbinates are small shelf-like structures that are always changing in size. There are three or four turbinates on each side of your nose. We are most familiar with the congestion that occurs within the turbinates when we have a cold or allergies.
For temporary relief, decongestant nasal sprays and pills are used. Prescription nasal steroid sprays can also provide some relief. Although many people find this decongestant nasal sprays gives excellent relief, long term use of decongestant nasal sprays not only makes the problem worse but also using decongestant pills may cause high blood pressure, increase the heart rate, and for some people even cause sleeplessness. For some, nasal steroid sprays cause headaches or nasal bleeding.
---
How can turbinate congestion be controlled?
The use of decongestant nasal sprays and pills can be avoided by a minor nasal treatment: Radiofrequency Turbinate Reduction with Coblation.
Patients report a 95% success rate with the radiofrequency nasal treatment for improving the symptoms obstruction, congestion and watery nasal drainage resulting from either allergic or vasomotor rhinitis.
The radiofrequency energy reduces the troublesome turbinates by creating a layer of scar tissue just beneath the surface. This layer of scar acts like a corset to prevent the turbinate from swelling and producing excessive mucus. The procedure is done as an out-patient under local anesthesia and takes only a few minutes and in some instances in the office.
---
How soon will I feel relief?
After the radiofrequency turbinate reduction procedure, the nose is stuffy, like having a cold for about a week. Once the nose is healed, patients can breathe freely, sleep better, and have less nasal secretion.